Friday January 22, 2016 comments
"I have nothing to wear!" – Every woman in the world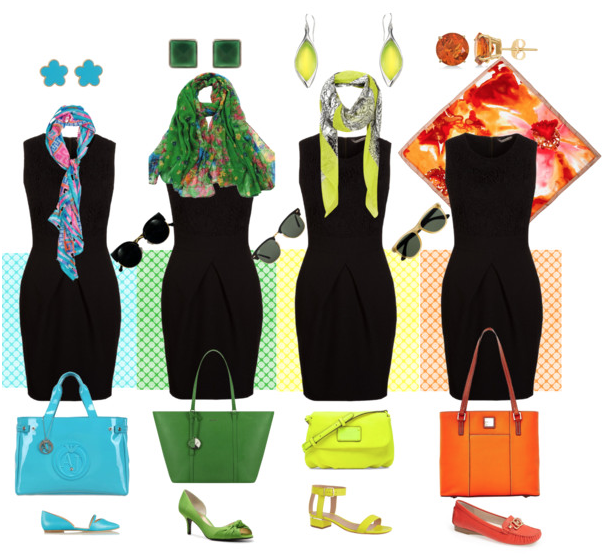 "I have nothing to wear!" This phrase is uttered around the world by women of all backgrounds. Whether your closet is jammed packed or just has a few pieces, all of us women have felt this feeling. Here are a few tips on how to combat this feeling from happening a little less often.
Build A Sample Wardrobe
First, try building a staple wardrobe. That is, try building a wardrobe that contains pieces that mix and match with other pieces in your wardrobe. This allows you to create several looks by pairing different items. Think about how you cook. Most of us have those pantry staples. Just by mixing up a few key ingredients we can create thousands of recipes.
Add Accessories
Second, add accessories to your wardrobe. Belts, shoes, scarves, handbags, and jewelry can spice up your looks. The picture above shows how you can create several outfits just by changing out accessories. By dressing up or dressing down with your accessories you can give yourself a wider variety of options.
Don't Rely on Mannequins
Lastly, don't rely on the mannequin to give you all the answers. You are not BFFs. She is not shaped like you. She may lead you astray. You may get home and find that you don't love the clothes as much as you did on her. If you are one who fills up your closet with outfits often seen on mannequins, you should consider taking a friend or stylist with you shopping. This can help you find an outfit that fits your body type and makes you feel fabulous when you look in the mirror.
Categories
Recent Posts
Popular Tags
Archives
Subscribe